Facilitating the Nordic Applied Arts
GALLERY UPDATE AND NEWS
CULTURAL CONNECTIONS CC – NORDIC TENT (Birthe N Fraser)
ARTINCLAY 2019 HATFIELD – NORDIC TENT - 20TH YEAR OF ARTINCLAY
HATFIELD HOUSE - AUGUST - 16-17-18TH 2O19
Last year THE NORDIC TENT celebrated the 100th Anniversary of the influential 20th Century Grande Dame of Danish Ceramics GUTTE ERIKSEN (1918-2018) and her influence both on her immediate contemporaries through her teachings at the Jydske Akademi such as Inger Rokkjaer/Hans Vangsoe/Anne Floeche a.o. as well as into the 21st century, but also through her widespread international exhibitions in Japan, France, Great Britain, Sweden, Germany, Holland and notably in the USA, where she taught for more than a year.
Her work is likewise to be found in most of the leading collections and museums including the V & A, but now also in the British Museum, where from mid-August this year (2019) a selected Collection of her work can be seen in room 48 in the British Museum as part of the permanent British Museum collections, donated by a group of Danes including her family in appreciation & paying homage to an outstanding and influential Danish ceramicist of the 20th century. Several of her works will be exhibited in THE NORDIC TENT as will examples of INGER ROKKJAER ,HANS VANGSOE AND ANNE FLOECHE works.
This year's other exhibiting ceramicists will be DORTE VISBY with a stunning new collection of saggar-fired lidded jars mirroring the natural landscape of her immediate surroundings as well as other new work. DORTE has over the many years exhibiting with CULTURAL CONNECTIONS CC both at ARTINCLAY, COLLECT, Barn Galleries/ Artspace/ Hawker Gallery, as well as THE USA ( SOFA, New York and Chicago) and Germany built up a wide circle of followers and collectors.
Another longstanding exhibitor is AILA SIMPSON who with her colourful expressive functional ware, and also her studio ware with interesting unusual main theme,i.e. (The mad hatters tea party) and new and innovative shapes in goblets and vases has a wide following.
Returning again this year is ASGER KRISTENSEN with his beautiful volcanic glazes applied to a classic cylinder form so admired last year and with a new grant to his name to study development of Japanese glazes next year in Japan. Furthermore this year we have a new exhibitor to ARTINCLAY INGA VESTERGAARD SOERENSEN exhibiting her truly amazing bird sculptures, one called THE BALANCING ACT .Inga has exhibited with Cultural Connections CC previously at the Barn Galleries.
Another newcomer is BENTE BROESBOEL HANSEN with a body of work in the form of vases and large bowls thrown with a precision and decorated in the same mould that is astonishing, looking at one of her vases makes you think of trompe l'oeil .
And last but not least, YUTA SEGAWA,is returning as GUEST OF THE DANES 2019. He was our guest in 2017 to such great acclaim . His elegant paired down miniature and other forms in vases very much compliment the Nordic ethos in forms and surfaces. Welcome back !
Another new exhibitor joines the Nordic Tent this year : HANNE BERTELSEN Hannes beautiful , innovative everyday functional ware in porcelain- surfaces inspired by both botanical and 'creature' surfaces and forms like the sea anemones as well as large scuptural studio vases in stoneware
There will also as always in the NORDIC TENT be examples of work by 20th century defining as well as 21st contemporary ceramicists.
CULTURAL CONNECTIONS CC GALLERY IS THE ONLY Danish run Gallery permanently placed in the UK since 1998, promoting top Danish contemporary ceramics as well as Nordic Applied Arts. Looking forward to your visit among the NORDICS !
For more information about Artinclay please click here
WELCOME TO THE NORDICS!
The following Public Institutions & Museums bought:
The Victoria & Albert Museum
The Henry Rothschild Collection
The Contemporary Arts Society
The Arts Fund
Royal Museum of Scotland
Newcastle Museum Gateshead
Private Collectors
New Art Centre & Sculpture Park, Roche Court, Salisbury
British Museum
&nbsp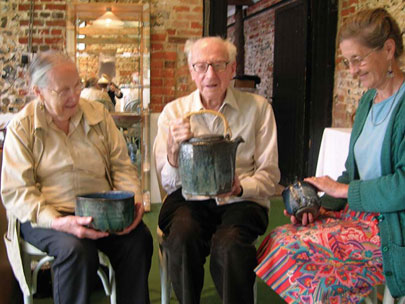 &nbsp

CC Collect in the Country 2006, the renowned founder director of Primavera Gallery: Henry Rothschild, his wife and friend holding Gutte Eriksen's pots.

&nbsp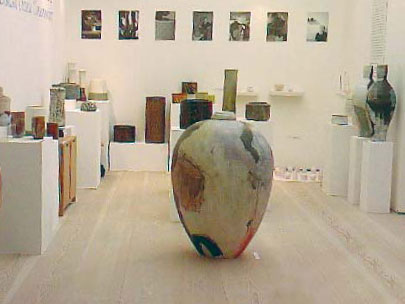 &nbsp

COLLECT 2O11 SAATCHI GALLERY LONDON

&nbsp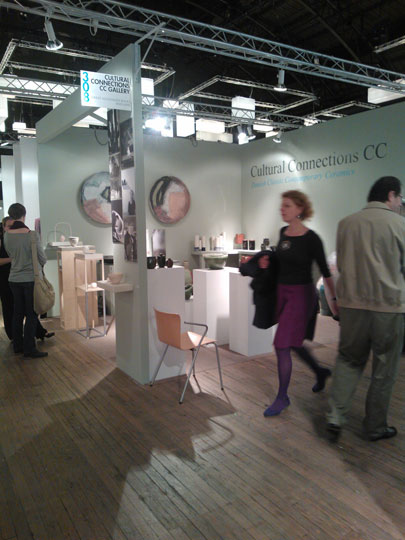 &nbsp

SOFA 2012 NEW YORK CULTURAL CONNECTIONS CC

&nbsp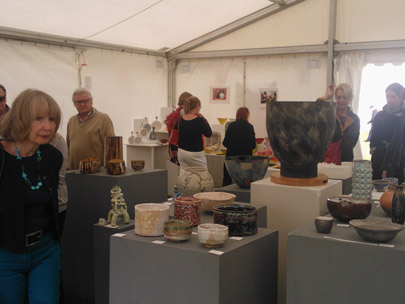 &nbsp

Nordic Tent ArtinClay Hatfield House 2014

&nbsp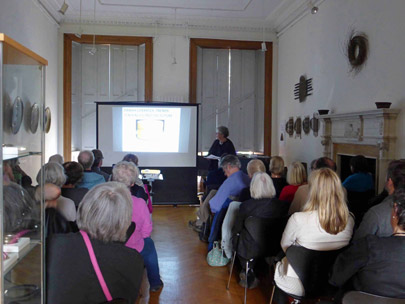 Danish Cultural Institute Edinburgh Gallery Director's lecture 2014

&nbsp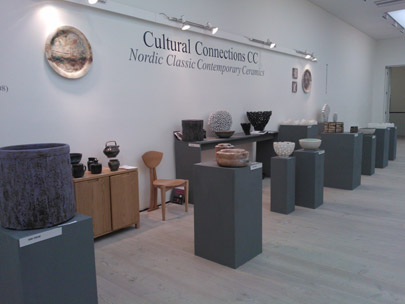 &nbsp

COLLECT 2O14 SAATCHI GALLERY LONDON &nbsp

Supported by The Danish Agency for Culture Denmark
& The Royal Norwegian Embassy London

&nbsp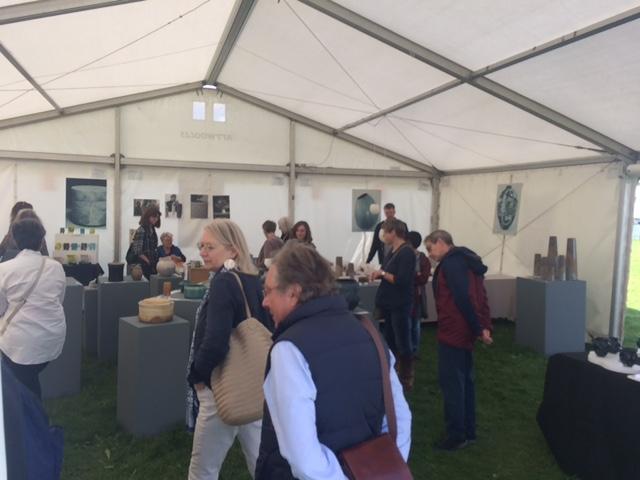 &nbsp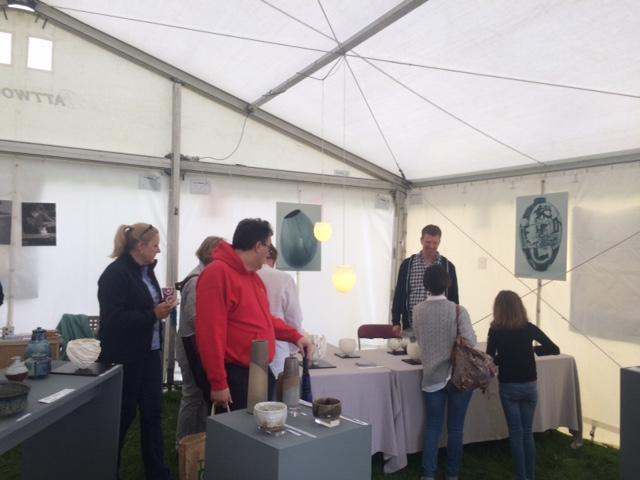 &nbsp

Hatfield 2017 Nordic Tent

&nbsp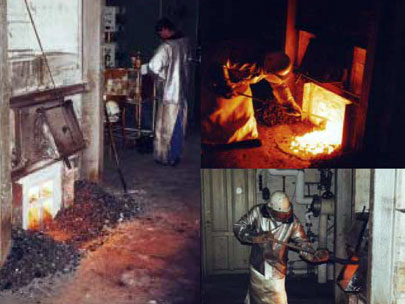 &nbsp

Coal-fired kiln now demolished, Royal Copenhagen manufacture, photo: Ivan Weiss